Katherine "Katie"
Wilson
Katherine "Katie" Wilson was admitted to the State Bar of Texas in 2018. Ms. Wilson is licensed to practice in all Texas district courts, and she is a certified mediator in the state of Texas. Ms. Wilson earned her Bachelor of Science in 2014 from The University of Texas at Austin. Then, in 2018, she received her juris doctorate from South Texas College of Law Houston.
While in law school, Ms. Wilson was President of the Student Bar Association and held an officer position on the Board of Advocates. She represented South Texas at moot court competitions throughout the country. These competitions include the 2018 National Admiralty Tournament, where Ms. Wilson was a finalist and awarded the best Petitioner's brief, along with the 2017 National Health Law Tournament, where Ms. Wilson was a quarter-finalist.
Before becoming a licensed attorney, Ms. Wilson worked as a law clerk and legal assistant in civil litigation firms in Austin and Houston. Additionally, from working with the Ward Law Firm, Ms. Wilson developed knowledge on commercial and contract litigation and professional liability defense.
Ms. Wilson was born in Longview, Texas and resides in Houston, Texas. She is a member of The Woodlands Bar Association.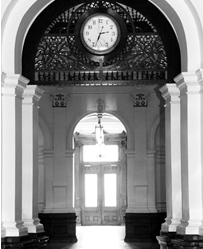 Resources
The Ward Law Firm
Parkwood One
10077 Grogan's Mill Road, Suite 540
The Woodlands, Texas 77380
telephone: 281.362.7728
facsimile: 281.362.7743