Jane McClaine
Jane McClaine graduated from South Texas College of Law in 1987. While in law school, Ms. McClaine served as Articles Editor for the South Texas Law Review and Student Editor for the Corporate Counsel Review, and earned awards for writing excellence and service to the South Texas Law Review. Ms. McClaine earned her B.B.A. (Finance) in 1984 at St. Edward's University in Austin, Texas.
Ms. McClaine has extensive experience in the drafting of motions and supporting briefs in a broad variety of complex personal injury and commercial litigation matters involving contracts, insurance, unfair competition and trade secrets, engineering liability, fraud, construction, appellate law, real estate, and mass torts. Ms. McClaine also has served as corporate counsel for a $30 million multi-state specialty refractory and mechanical construction contractor in the petrochemical industry, where she oversaw contract negotiation and drafting with petrochemical owners and subcontractors; corporate governance; and labor and employment law matters.
Ms. McClaine began her law career as Briefing Attorney to the Honorable Hugh Gibson, Senior United States District Judge for the Southern District of Texas (Galveston Division), where she assisted in the drafting of legal opinions covering a wide range of disputes from oil spills to unionization disputes in the Texas City petrochemical complex.
Ms. McClaine is licensed to practice in all Texas courts and the United States District Court for the Southern District of Texas. She is a member of The Woodlands Bar Association and the Houston Bar Association.
Ms. McClaine was born in Houston, Texas.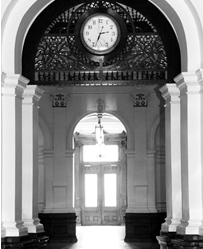 Resources
The Ward Law Firm
Parkwood One
10077 Grogan's Mill Road, Suite 540
The Woodlands, Texas 77380
telephone: 281.362.7728
facsimile: 281.362.7743